Bewerber: Deutschland / Bid Cities : GERMANY


















117. Session SINGAPORE 5.- 9.7. 2005
1. Runde
22
21
20
19
15
2. Runde
27
25
32
16
-
3. Runde
39
33
31
-
-
4. Runde
54
50
-
-
-
4. Runde
54
50
-
-
-

Die Post Singapurs verausgabte zwei
personalisierte Kleinbögen zur IOC-Session,
so genannte MyStamps:
•
einen mit Zudruck des Emblems
der Session,
•
einen zweiten mit Zudruck des Namens
des siegreichen Bewerbers LONDON.
Der hier verwandte Kleinbogen weist
e

inen fehlerhaften (=doppelten) Zudruck
auf.
Singapore Post has issued two different
personalized minisheets, so-called
MyStamps

:
•
with the logo of the IOC session in
the tab

and
•
with the name of the winner city
LONDON.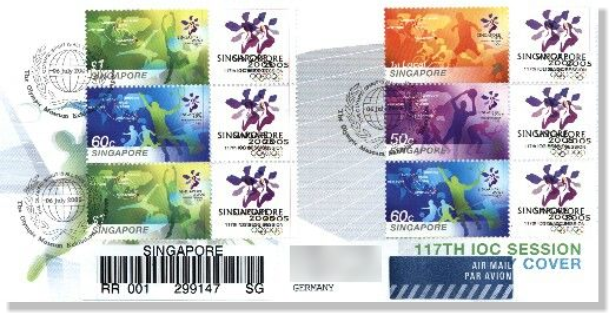 Personalisierte Marken / MyStamps